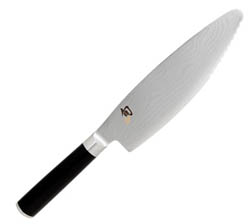 Earlier in the year, I bought from Woot.com an expensive high-quality cooking knife. It was such a great deal that I couldn't resist. When it showed up, I remember being entranced just by the patterns in the steel.
When I finally got my kitchen rearranged, I put the kitchen knife up on a magnetic wooden block on the wall, where it's been just staring at me, waiting to be used. As silly as it sounds, I've been holding off, waiting for some sort of special reason to do so. Fast forward to today, when I was preparing to chop up a huge butternut squash for dinner. And suddenly I thought, "Why am I waiting to use this knife for 'something special' when I could use it now?"
And oh, was it a lovely experience. That knife cut through the squash like it was butter, not butternut. Totally in love with the knife. Probably the best Woot purchase I've made to date. And now I totally want to chop up more things with it! I also feel slightly silly for not having used it up until now. A good knife really is worth its weight in gold.