What happened to April? I'm still not sure, so let me just be brief: it was probably one of the busiest/craziest months I can remember for me, and I'd love for any future months to take that as a warning that I shouldn't ever have quite so much going on ever again.
Anyway, April meant this month's Doctor Who episodes were the Tom Baker era, and in doing so I found myself in a bit of a quandary. Tom Baker was on the show for a record-holding seven years, and went through multiple producers and script editors. He's also for the original series, the face of the show in the United States. While I was extremely lucky to grow up in an area that had two PBS stations that showed all eras of the show, for many areas all they got were Baker's stories.
With so many stories to pick from—including some favorites near and dear to my heart—I ended up deciding to start with three stories that most consider "classics" but which I'd never actually seen. (I know, I know. For two of them I read the novelizations growing up and the third… well… I'd seen lots of bits and pieces but never sat down and watched it all the way through.) The end result? Not what I expected.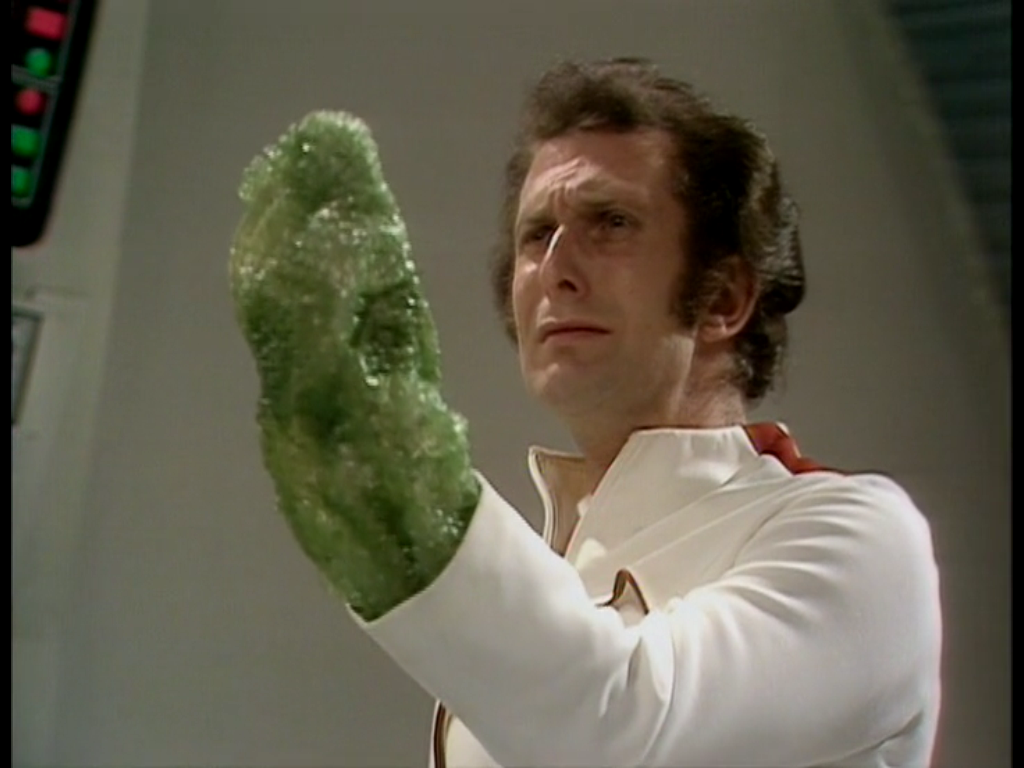 #076: The Ark in Space
Baker's second story, "The Ark in Space" for me locks in the overall tone of producer Peter Hinchcliffe's era. It's the first hints we get of the gothic, dark tinged stories that he (and script editor Robert Holmes) dreamed up. Fans of the films Alien and Aliens will see some certain similarities; people in suspended animation in the future, an alien that infects other species to reproduce, a confined area with no easy escape. "The Ark in Space" is a remarkably effective story, one that uses its run-time almost perfectly. This is a story which lets the Doctor and his two companions (Sarah Jane and Harry) interact with just each other and not worry about a supporting cast for the entire first episode and gets away with it wonderfully, after all. With so many "it'll eat you from the inside" type stories now, I suspect "The Ark in Space" is a bit old hat but at the time I can only imagine how freaked out audiences must have been.
Sarah Jane had been introduced the previous year (and is probably to this day one of the original series' all-time favorite companions; considering they brought her back for the new series and then gave her a multiple-season spin-off of her own, that's a reasonable assumption to make) but poor Harry gets an outing here. Harry is a character whom, if I remember correctly, was supposed to be the muscle opposite a much older actor playing the Doctor. Then they hired Baker and oops, Harry was no longer needed. As a result he ends up a bit bumbling to give him something to do, but here's the thing: he's got charm thanks to actor Ian Marter. It's a real shame the character didn't get to stick around, because I love him.
Some of the effects have been redone for the DVD as an optional extra. Halfway through I switched over to them just to see what the new version of the outer space shots looked like. Are they better? Yes, a thousand times so. Were the old ones bad? Well, no… dated, yes, but not bad. Honestly I'm surprised they didn't go whole hog and replace the "oh no, he's got green bubble wrap on his hand" special effect while they were at it. Ultimately unnecessary but inoffensive in terms of a change. But anyway, "The Ark in Space" was a real joy to watch; I'm sorry it took this long.
(more…)