I suppose there's something apt about having to be in my 40s to finally achieve a 4.0, but better late than never, right?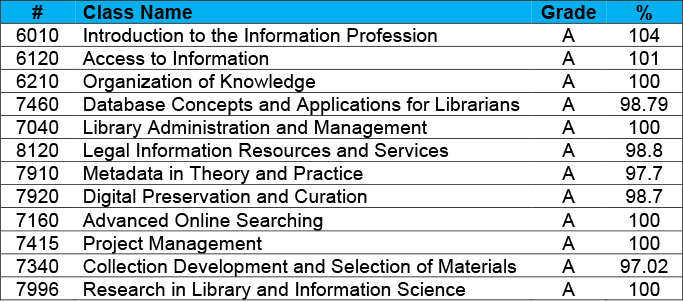 It's been a long two years (and technically I'm still waiting on an approval on my graduation portfolio), but it's a wonderful feeling to be more or less done. I made some wonderful new friends in graduate school and I learned a lot to boot. Some classes stood out more than others, of course, but there's only one class choice that I genuinely regret and I consider that a real victory.
I've half-joked about writing a book on how to go back to school in your 40s and who knows? With ebook self-publishing what it is, that may happen. But I've got a lot of other things still on my plate too; two years worth of pleasure reading to catch up on, all sorts of games that are waiting to be played, and (lest you think there's nothing but frivolity ahead) plans to work my way through the LIS 7440 Scripting Languages for Library Applications syllabus. We'll see how far I can get through that last one, but it would be good to learn PHP if nothing else.
It still feels strange to not have classes kicking in at the end of the month, though. I won't miss the lack of free time, but I must admit that I will miss the chance to learn something new and to interact with some really great fellow students. In the meantime, though, I'll enjoy getting my life back, or some approximation thereof.