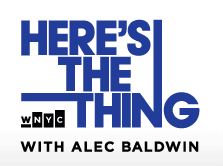 Here's the Thing
If you'd  told me even a year or two ago that Alec Baldwin would decide to start his own bi-weekly podcast in which he interviews other people, I'd have laughed in your face. But courtesy WNYC, that's exactly what we get with Here's the Thing, a 20-30 minute dose of him talking from people ranging from Chris Rock to Erica Jong. I've listened to three episodes now, and I'm in love with the show. Part of it has been the comfort level that both Baldwin and his subjects have had with one another, but I think it also helps that because Baldwin has been on the other side of the table, he's got a slightly different perspective on the matter. There are only a handful of episodes right now, but I'm hoping this continues for a long, long time.
Spring
I know, it doesn't start for another two weeks. But in the DC area at least, I think (fingers crossed) that I've had my last below-freezing run on Tuesday, when it was 29 degrees according to my car. Sure, the temperature is going to jump up and down for the rest of March, and into April as well, and that wind can be a killer. But I wore a long-sleeve t-shirt and shorts for today's run, and it was so nice to be able to ditch the running pants.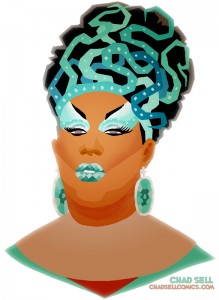 Chad Sell's RuPaul's Drag Race Portraits
Last  season, Chad Sell began posting portraits of the RuPaul's Drag Race contestants on his website, as well as commentary on the episodes. And while I like Sell's commentaries, it's the portraits that floor me week after week. He's an amazingly talented artist, and he's got a sly sense of humor to boot. Every time he updates with new drawings, it makes me excited for the show all over again. (Speaking of which, RuPaul's Drag Race is turning out another top-notch season this year. You should all be watching it, too.)
Great Neighbors
No, seriously, I think my neighbors are great. At the old apartment I had one amazingly awesome neighbor, but I also already knew Karon before I'd moved there. (In fact, she's in part why I'd moved there.) And yeah, I had a couple of friends in walking distance. But it's nice to have multiple people up and down the hall that I think are great. Feels a little odd to know and like lots of people in the building, but I'm not complaining.
Sinead O'Connor's How About I Be Me (And You Be You)?
All right, I'll admit that I'm only two tracks into Sinead O'Connor's new album How About I Be Me (And You Be You)? but so far I'm happy. Her last three studio albums consisted of traditional Irish songs (Sean-Nós Nua), classic reggae songs (Throw Down Your Arms), and a religious album (Theology) so O'Connor creating an album of original, non-themed music is a big deal for me. (The last album of hers that falls into that category was 2000's Faith and Courage, so it's been quite a while.) Right now I'm enjoying just letting the new songs wash over me and listening to her beautiful voice. And with a new Amy Ray solo album also out, and a new Regina Spektor album on the way, 2012's already looking like a good year for music that I like…
(Lucky 13!)