Monthly Archives:
December 2012
Ursula K. Le Guin's The Unreal and the Real
One of my all-time favorite authors is Ursula K. Le Guin. I fell in love with her books ever since I first bought a copy of The Wizard of Earthsea at our library book sale in 4th grade (and read it so quickly I managed to buy copies of The Tombs of Atuan and The Farthest Shore before the week-long sale ended), and that enjoyment of her writing hasn't ceased. Now, one of my favorite small publishers (Small Beer Press) has issued a two volume collection of her short stories. And while I buy ebooks more often than print ones these days, I had to make an exception for this handsome volumes.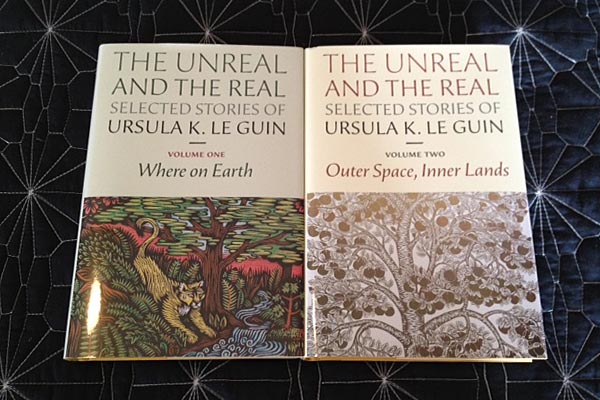 I also appreciate that they even came up with a way to theme the two volumes in terms of location (the titles should give it away) rather than just an arbitrary "these are two volumes worth of stories" division. Oh, in case you're wondering, there are ebook editions too. But for now, I'll be reading these copies, just calling my name. Good times ahead.
SiTea: The Spice Boutique
Just down the street from me is SiTea: The Spice Boutique. Now, in the back of my head it's always been a place to buy dried teas and supplies. They have an amazing selection, lots of original mixtures, and in general it's a great place to visit. But it was only recently that my friend Randal reminded me that it's also a place you can go to sit, have a pot of tea, maybe a snack or two (cupcakes, samosas, and vegetarian chili are a few of their regular offerings), and relax. On a stressful day, it was a real delight to stop and hang out with Randal for an hour. We both had a wonderful tea, enjoyed the quiet music and inviting surroundings, and each other's company. I won't forget about SiTea's option as an oasis of enjoyment again.
Grandpa's Meatballs
My grandfather's meatballs were the stuff of legend. Seriously, they were that good. There was something about the way he cooked—no doubt taught by his Italian immigrant parents—that just made everything taste a little better, but especially when it came to the meatballs. My aunt Jackie once sat down with him and dutifully recorded everything he did, step-by-step, to try and replicate them. And while we still can't get them quite as good as his… they're awfully close. In November I ended up making about 600 cocktail-sized meatballs using his recipe, more or less. (I drew the line at pan-frying all of them, due to the sheer number, so they were baked in the oven instead.) And while they were indeed absolutely delicious, what really made me happy… was just the act of making them. It was a very calming, pleasurable experience. I put some music and podcasts on, rolled up my sleeves, and just cooked for about five hours. A great way to spend an afternoon, and a way to remember what a wonderful guy my grandfather was in all aspects of life.
"Get Myself Together" by Robyn
Seriously, I can't stop listening to this song. Why was this not released as a single? So good.
Unseasonably Warm Weather
For a couple of days this week we had crazy warm weather for December in the DC area. Monday and Wednesday morning involved wearing shorts (with a long-sleeved shirt) while running outdoors at 6am. That's not normally something that happens again until March. A cold front has since swept back in—and to be fair, this warm weather is probably not a good thing in terms of the future for the planet and things like that—but it was great to break out some polo shirts to wear to work and just enjoy a couple days of semi-warmth. But now, back to the winter gear it seems…