Now, this show could turn out to be a disaster. I may end up angrily turning it off in disgust. But seriously, this sounds like it was made for me—I'm mentioning it here partially for everyone else's benefit (who is of the same mind), and partially so I remember to set the DVR later tonight.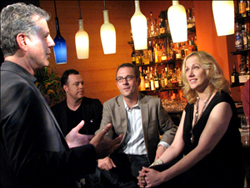 At the Table With Anthony Bourdain
Tune in Monday, Oct. 20, at 10 p.m. ET (Travel Channel)
As you'd expect from an Anthony Bourdain vehicle, opinions fly and no topic is off limits as Tony hosts a no-holds-barred dinner with four featured guests. Joining Tony around the table are celebrated writer Bill Buford, "Nightlife Queen of New York" Amy Sacco, TV personality Ted Allen, and magazine editor and former gossip columnist Chris Wilson. They'll debate the ethics of an $1,800 dinner, and Tony will reveal how he always, secretly hopes the waiters like him. Food and travel stories will run wild from Wylie Defresne's restaurant wd~50 in New York City. Anything goes "At The Table With Anthony Bourdain."
---
While I'm thinking about it, I too would like an $1,800 dinner if someone else is buying. Just putting that out there in case someone has a lot of spare cash lying around.
(On second thought, give me the $1,800, I'll have a great dinner for quite a bit less, and keep the change.)