I think I pissed off the patron saint of athletic shoes.
About a week and a half ago, I went to buy a pair of cycling shoes at a local bike store. When I did so, I also asked for a pair of cleats. "I want to use these at spinning class," I said, "so all I need is a pair of cleats to go with these."
"No problem," the clerk said. "A pair of cleats for spin class." It wasn't until I got home that I looked at what he sold me, and it was in fact a pair of pedals (that came with cleats), which cost $70 more. (And also explained why the overall price was higher than I thought.) I ended up returning the entire purchase (the manager was extremely apologetic the second I explained what happened), and I'll try another store in the area this week to get my spin shoes and cleats.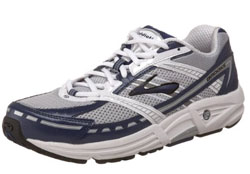 Later in the week, I called up a (different) local running store and asked if they had my running shoes in stock. Because I need to get them in a 2E wide size, they sometimes don't have them in and need to order them. They didn't, but they said they'd call the other stores in the chain and get back to me. After about 20 minutes, they called back and nope, didn't have them in, but they'd be glad to order a pair for me when their weekly order to the distributor went in on Monday.
Fast forward to Tuesday morning (today), I get a call from the running store. A different employee called to say that because this was a type of shoe they didn't carry, they wouldn't order it until I came in and paid a $20 deposit. And in my head, I'm thinking, "…which means the order won't go in until next week. Great."
So, I told them that meant I wouldn't have the shoes in time, and to not bother. Went online and in less than 2 minutes I have a pair of the shoes heading my way and they'll be here by Thursday, because I no longer have time to play these sorts of games.
None the less, I can't help but feel that I have pissed someone off. If my next attempt to get my spin class shoes goes equally awry, I will get the hint. (I do have four pairs of my old running shoes in the trunk of my car right now to drop off at the recycling bin at one of the local shoe places. Maybe I need to sacrifice one of them?)