Cleaning and Reorganizing My Office
I know, this sounds distinctly non-fun. But I've had a lot of clutter in my office over the past six months, and last week I stayed for an hour or so after officially checking out for the day, and got rid of a lot of the stuff that needed to be pitched. I also finally hung two pieces of art; Stan Sakai's painting for the A Fall of Stardust portfolio (which used to belong to my friend Jeff), and a Charles Vess painting from Rose. I'm still not done with the office—it'll take one or two more sessions to get everything done—but it's a big enough change already that I find myself surprised by how much nicer everything already feels.
Bar Scrawl: A Cartoon Guide to New York's Drinking Establishments
I don't live in New York. And I don't drink very often. But I adore these comics of Bill Roundy's, in which he reviews New York bars for The Brooklyn Paper, then posts them online a week later. Seriously, these are tremendously fun. He's got a strong sense of how in just a few panels to make a bar come to life. I want to go to all of these bars, and considering the first two points in this paragraph, that's impressive.

Less Than Six Weeks From Race Day
My running group somehow talked me into signing up for the Rock 'N Roll USA Marathon (replacing the National Marathon here in DC), which is on March 17th. We just had our 20-mile training run on Saturday, and while the run itself did not make me terribly happy in parts (it was a rough final five miles), I am happy to know that the race is almost here. Then I can focus on some triathlons I'm signed up for, and get my poor neglected bike out of storage. The race being done will equal a big road marker for switching gears in terms of exercise, and that makes me excited.
Whammy!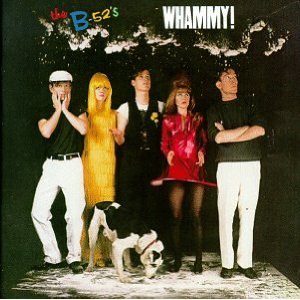 I still remember when my older sister introduced me and my other sister to Whammy!, the fourth album by the B-52's. Songs like "Butterbean" and "Song for a Future Generation" were particular favorites (especially since we never got the "Butterbean" lyrics quite right, singing, "Pick em, scratch em, put on the steam…" In retrospect, no, you do not scratch butterbeans in order to eat them…), but we loved the whole album. Years later I bought it on CD, but due to a legal dispute with Yoko Ono, one of the tracks ("Don't Worry") wasn't included. Now that Charlie has a record player, I ended up taking a little trip to eBay for my own copy of Whammy!. And holding that big ol' record sleeve, it makes me feel ten years old all over again.
60 Degree Days in February
All right, this is probably a harbinger of the planet's inevitable fiery heat death. And they appear to be gone for now. But when it's 60 degrees in February in Washington DC? Well, it was awfully nice to actually wear running shorts when outside and running in the middle of the winter.
(Yikes, it's been almost two years since the last one of these posts. I promise I've been happy since then.)