A Bride's Story by Kaoru Mori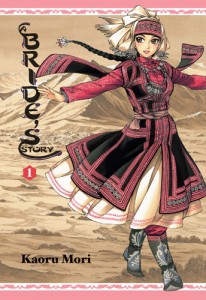 I utterly missed out on Japanese comics creator's last series to be translated into English, Emma (the story of a Victorian era maid) but it's nice to not be too far behind the times with her new series A Bride's Story. It's set in the 19th century and details a woman in the Silk Road area (near the Caspian Sea) who is the new bride to a young man in a neighboring tribe. It's half relationship drama (and in a good, non-melodramatic way) and half anthropological study of that time and place. I just finished the first volume and was completely and utterly sucked into it. Also, it's gorgeously drawn, an immense amount of detail packed into each page and on even what might otherwise feel like small, trivial details. I'm dying to pick up the next two that've been published in English to see what happens next. Absolutely charming.
Fra' Mani Salametto
I picked up this dry salame for when guests were coming over, at Arrowine in Arlington, and I am so glad that I've had some leftover because it is divine. Soft, delicious flavor that just explodes in my mouth with each bite. Right now I'm slowly rationing out what I have left, but it's good enough that I will definitely buy more. One of those slightly expensive foods that's worth every penny you pay for it.
Home Improvements
In the past month or so, we've bought new blinds for the bedrooms (that better block light, a job the old ones did not quite handle properly), ordered new carpet for the stairs, and today a magnetic knife rack arrived. They're all little changes, but it's a real pleasure to get these things taken care of and have our home feel that much more… well… homey.
Back to Exercise
After a month off of exercising post-marathon (thanks to the delightful stress fracture in my right tibia), last week I finally got back to the gym… for five days in a row, no less.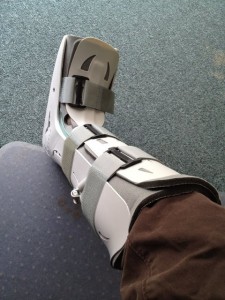 The things I'm limited to are a little boring, but I have caught up a great deal on my podcasts. And I keep vowing I'll make it to the pool (for both lap swimming and pool running!) soon, honest, no really. It has felt good to do so. This week might be a little less energetic but there will be more exercise on the horizon, too. Time to use the non-busted parts and have them earn their keep. And speaking of stress fractures…
Being Halfway Done With My Air Cast
As of today it's been three full weeks in the air cast! I find that hard to believe myself. I'd mentioned it already on Facebook and the like, but in short I developed a stress fracture in my right leg sometime in February, didn't realize I had one, ran a marathon on it, then realized that the pain I was having was not a pulled muscle and went to a specialist to figure out the problem. I've been told that I'll be in "das boot" (as I've named it) for six weeks. So, halfway done! Once I'm out of it I'll get to go to PT to slowly ramp up returning to running, but that'll be a slow process (in more ways than one) for a while. But it's nice to be about to tip into the realm of over 50% complete with the truly annoying part of this little adventure.