Back to Swimming
Despite swimming being "highly recommended" as exercise while recovering from my stress fracture, the last time I'd actually gone to the pool was back in January. Happily, Charlie gave me the nudge that I needed to finally start moving forward again, and we've been hitting the pool 2-3 times a week before work. My overall speed isn't where it should be, but that's what happens when you take six months off, right? All in all, though, it's felt great to finally get back to the pool and start swimming some laps. My mile time might need some improvement, but I'm also glad that I can swim a mile without stopping again.
Ceiling Fan
There are a lot of things that I love about our condo, but one of the few things that has driven me crazy since day one was that there's no air-return on the upper level (where the living room/kitchen area is located). With an 11-foot ceiling, that's meant that hot air easily travels up there and then just stays put. We'd bought a fan to turn on when it gets too warm as an emergency measure, but this month we finally sprung to have a ceiling fan installed. I'm not going to lie, the installation was problematic and actually took two appointments with an electrician (plus someone to then repair drywall and re-paint) but now that it's done? It's fantastic. It's been a transformative shift to our upstairs. Just having the air moving has made all the difference, and the fan itself looks great to boot. (Amusingly, when I first turned it on, for about five minutes it blasted hot air down at me, to the point that I almost started to majorly freak out. Later it hit me that it was finally getting all that trapped heat out of the top of the room that a fan on the floor would never touch.)
The End of Physical Therapy
I actually really enjoyed my PT sessions, which I often joked stood for "personal trainer" rather than "physical therapy." Jackie definitely worked me over good each week, and she's pretty great to boot. But I won't deny that I'm glad it's over, because it means that the long saga of the stress fracture appears to be finally over. I got a six-mile run under my belt towards the end of July, and finishing it with no problems was a huge relief. Of course, in an effort to remind me not to be too cocky, I then went and broke my little toe at the end of the month by stubbing it on a chaise lounge, so I'm back off running for the month of August. Ah well!
Rediscovering Debbie Dreschler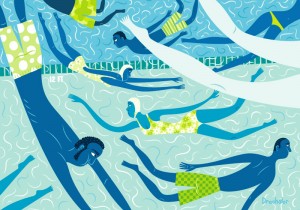 Debbie Dreschler's two graphic novels from back in the day—Daddy's Girl and Summer of Love—were hard to read. Not because they were badly created (they weren't) but because the subject matter was rather disturbing and emotionally raw in places. Since Summer of Love Dreschler more or less vanished off of the comic book scene, so I was pleased as punch to recently discover her website and her blog. Her website shows the professional illustration work she's been producing since then, and it looks great. Even better, she's also got some adorable greeting cards for sale. (I might have bought a set.) Her blog has been serving up some sketchbook drawings of hers involving local wildlife, and all I can say is that she just gets better and better with time. (Debbie Dreschler: a fine wine of cartooning.)
Much-Needed Vacation
We went on a short vacation near the end of the month to Lost River, West Virginia, where we did… absolutely nothing. It was marvelous. Lots of sitting by the pool reading books (E.M Forster's Howards End and the amusingly-named Showcase Presents: Showcase Vol. 1 were both read, plus another large chunk of Paul Theroux's The Great Railway Bazaar), some swimming, a massage, and eating all sorts of foods that are perhaps not great for me. But it was vacation, we got to relax, and the only schedule we had to worry about was when we'd scheduled our massages and what time our dinner reservation one night was set for. (And when I say "worry" I mean "we didn't worry one iota.") Any trip where you can accidentally break a toe and still think, "What a great time" is a good one.