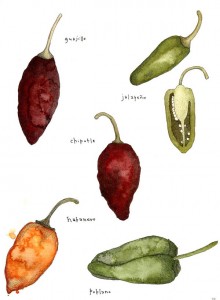 My Abuela's Table: An Illustrated Journey into Mexican Cooking by Daniela Germain
I found this cookbook at a great home goods store just down the street (Trohv) and even though the last thing I need is another cookbook, I had to take it home with me. The recipes appear to be nice and good, but what really caught my eye were the illustrations by Germain. They're gorgeous, with delicate watercolors that occasionally bleed out of their borders and onto the page around them. I'd flipped the cookbook open to the illustrations of the different chili peppers and I just fell in love with Germain's art; the deep, rich colors make those oranges and reds and greens just call out to me. I may never make anything from this cookbook (although I plan on doing so!), but I feel like I've devoured the art in it enough that it was a worthy purchase.
Oscar-Nominated Shorts Compilations
Every year, Charlie and I go to see two of the Oscar-Nominated Short Film compilations (the Live-Action and the Animated categories). These are pieces that chances are you'd never be able to see otherwise, unless you hit the film festival circuits. And while I don't think there's ever been a year that I was crazy about all the nominees, there's always something to recommend about each one. This year I was especially taken by Death of a Shadow (a strange steampunk tale about a man who captures the shadows of people about to die all throughout time) and Asad (a Somali boy struggles to become a fisherman) among the live action pieces, and Adam and Dog (the story of the Garden of Eden through the eyes of the first dog) and Paperman (the start of a romantic relationship with the help of paper airplanes; you may have seen this before Wreck-It Ralph). But like I said, there's something to recommend for all of them. 
Gone Girl by Gillian Flynn
I'm coming to this one a little late. I'd been hearing recommendations about it for ages (and first and foremost from Linda Holmes on NPR's Pop Culture Happy Hour), but I knew very little about it. That's a good thing. I hate to do this, but it's a book that the less you know about, the better; all I'll say about the plot is that it's about a woman who vanishes under mysterious circumstances. It's a book that digs down deep and gets you at just the right moment, and it's also a very fast read; I think I read it in two days. It's not high art, and in a few places you'll scratch your head and say, "Really? Really???" when it's over. It doesn't bear too much thinking about it afterward, to be honest. But it's a classic example of the pageturner, and I'm glad I read it.
"Candy" by Robbie Williams
I know this song is a few months old (and I've talked about it on Facebook before, in fact), but every time I need to grin I just listen to it. Seriously, I defy you to not be happy after listening to "Candy."
Great Friends Every February
Every year in February I head out to Los Angeles to attend the Gallifrey One convention, which is all about my all-time favorite television show Doctor Who. And yes, a lot of the attraction is the convention's guests and programming; this was my 13th straight year of attending, after all. But just as much of an attraction is going to see all the friends that I'm reunited with every year because of Gallifrey One. There are too many to list—over the years I've met so many great people there—but let me just say that if none of my friends were going one year, I might stay home too. Fortunately, there's no shortage of friends there every time I go. My friends? They're the greatest. Just what the doctor ordered to perk up what could be a cold, grey month.