All sorts of exciting things are going on as of late in the world of Greg Photography!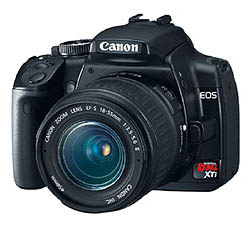 The first and foremost thing is that my brand-new camera arrived today. It's a Canon Digital Rebel XTi (known in other countries as the EOS 400D), and it's my very first SLR camera. I am, needless to say, super-thrilled! I am also vowing to stop by the library today or tomorrow to get a book on SLRs because I've never actually used one. It's a whole new world of lenses and f-stops and all sorts of other exciting terms that a decade ago made my eyes glaze over.
Almost all of my photos for Artomatic are now printed as well; I'm going to re-print one or two of them that need a slight tweak but generally speaking I'm really happy with them. When I picked them up, I opened up the package to make sure they were all there and the woman working the counter actually gasped out loud. Which was a nice ego boost, needless to say. She and another employee asked what camera I was using and were flabbergasted that it was a point-and-shoot. Frames are ordered and en route, as are my business cards. So now I just need to figure out exactly how I'm going to decorate my space. I worked a volunteer shift at Artomatic on Saturday night (it was gorgeous out, so the place was dead as a doornail—good thing I brought a book!) and it gave me some ideas to mull over. Artomatic doesn't open until May 9th so I still have a little breathing room to get ready.
I've also put together a special sub-website spotlighting some of my favorite photography, and put about half of the photos into it. That's the URL that I put on my business cards, and as soon as it's done I'll post a link here. But I'm happy with it, too; as great as Flickr is, I like the idea of having a very specific subset of photos to send people to instead of a photostream that also has, for instance, lots of pictures of my friends shoving french-fries into their nostrils. (Well, not quite that. But you get the idea.)
Between the new camera and seeing everyone else's stuff at Artomatic, I'm thinking/hoping this will get me firmly back on the photography road again. It was nice having some time off after the 365pictures project, but at the same time I'm eager to start adding new photos to the collection.