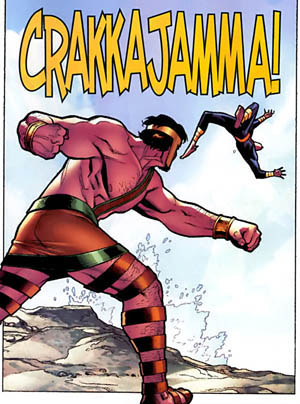 And now, actual sound-effects from the latest issue of The Incredible Hercules (issue #122, to be precise), from Marvel Comics.
Saying that this book doesn't take itself terribly seriously (and is more than a bit tongue-in-cheek) is, as you'll quickly discover, the understatement of the century. Boy, is this book fantastic.
Kasploooom!
Skrrakkkabadooom!
Crakkajamma!
Sploingbrraahhhm
Shrakwash!
Skrim! Skraam!
Shakaaam!
Schmackooom!
Gwap!
Frmrrrl
Aqwooooommm
Splurrrgoi
Lqwwwrrrggh
Kakkakkraakk
Obrrrrg!
Unlrrqq!
Oh, how I love this comic.