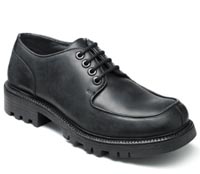 Pet Shop Boys medley
I've been listening to a mix of the PSB for the last hour or so, and while my co-workers might not be so thrilled, it's been perfect music to work to. I started with my favorite song ("The End of the World") and have been moving onwards from there…
Kenneth Cole Reaction Oxfords, Starting Block Moc Toe
I got these shoes on sale (for half off!) last week, and I love them so much that I would've felt I got a great deal at full price. They are super-comfortable and sturdy; I'm someone who normally wears sneakers every day of the year if I can get away with it, and I've been wearing these instead for the past few days. Love, love, love them.
Mmmm, Cake
Chocolate and raspberry, from Amphora Bakery. Deliciousness.
Plans to Bike Ride on Sunday
I haven't taken my actual bike out since, well, last year. It'll be a lot of fun to head out there with a friend and see how rusty I am. (And how well those spinning classes have done me.)
Dinner Reservations for Volt, Tonight!
I was a huge Bryan Voltaggio fan when his season of Top Chef aired, and I am ultra-eager to finally eat at his restaurant. A perfect surprise from Charlie.