It's a little hard for me to believe that I'm already halfway through my graduate school program. When classes began a year ago, graduation seemed very far away, although that could have been in part a level of nervousness. After all, it had been 18 years since I completed my undergraduate degree. And while I design online courses for a living, the idea of shifting to a fully online format for school was also a bit daunting. So, with that in mind… what have I learned so far?
Graduate school was a good idea. Of the six classes I've taken, I'd say that four of them were well-worth the money. I've learned a lot about cataloging and researching, adding to the skill sets that I already possessed. I also increased my knowledge of Access databases and SQL queries immensely, neither of which I knew very much about. Strictly from a "gaining knowledge" standpoint, those four classes have been automatic successes. As for the two other classes… well, honestly, if I was someone fresh out of my undergraduate degree and without any real-world/job-market experience, these would have probably been a lot more beneficial. So there's certainly no anger or disappointment when it comes to those two remaining courses; they just weren't helpful to me because they covered ground that I had already tackled or experienced on my own.
Something's got to give. I knew, going into this, that I'd lose some free time. But somehow, it was still a bit of a surprise on just how much free time I ended up giving up. Usually at least one day on the weekend is devoured by schoolwork, for example. I've been reading a lot less, unfortunately, as well as finding it much more difficult to keep up with the few television shows I watch. I also had to scratch my plans to run the Nations Triathlon in DC next month; I have not made it to the pool at all this year to swim laps. (A full marathon is, needless to say, right out.) With less gym time, there's also been a slight weight gain, too. Ugh.
Organization is key. I know, this is a library and information science degree, I should already know that. But in this case, I mean more along the lines of tracking my assignments. I create a master calendar with all of my assignments for the semester in the first week, highlight graded assignments in red so I don't miss them, and then delete items as they're finished. Additionally, I put the current week's assignments in an app on my phone that I check off as they're finished. It might sound like overkill (since I do have a syllabus for each class) but it makes a big difference in getting everything done.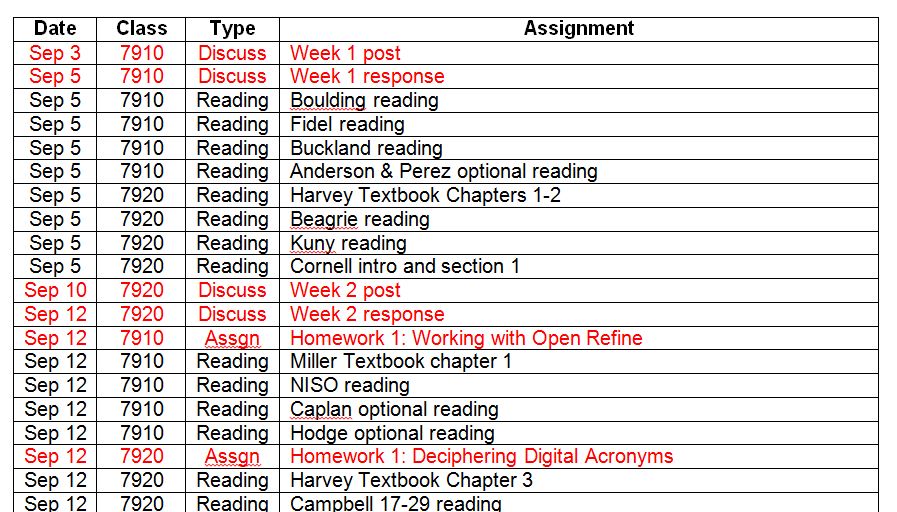 I really do work harder now that I'm older. I will be the first to admit that I did not focus as much as I should have in my first two years of my undergraduate degree. (Spring 1991 and Fall 1992 in particular.) I buckled down after that and improved my grades a great deal, putting a lot more work into my classes. Well, that was apparently child's play compared to the amount of effort I put into classes now. Sure, it's graduate school so it should require more effort, but being in my 40s I find myself caring that much more about my assignments and getting them not just completed, but excellent. And honestly, at times I'm a little perplexed that not all of my fellow students are in the same boat. (Then I remember being in my 20s and I'm not that surprised. And there are some people who are almost 20 years younger than me who are even more driven and determined than I am, for that matter.)
Vacation is the best thing ever. I hadn't realized just how important the three week break in December was, until I didn't have any sort of break between my spring and summer classes. (Or as WSU refers to them, my Winter and my Spring/Summer classes.) There was definitely a little bit of burnout as a result; having a lot of the month of August off has helped a great deal in that regard now, but it was certainly a difficult May and June thanks to not having any real break.
And so, with all that in mind, classes officially kick off today. Six down, six to go. To use a running metaphor, this is the point in the marathon where you can start counting down the miles, because it's no longer terrifying to do so. I can't see the finish line yet, and won't for a while, but at least I know it's out there.